---
My challenge for you this month is to use fussy cutting and lace on your card.

Here is my sample.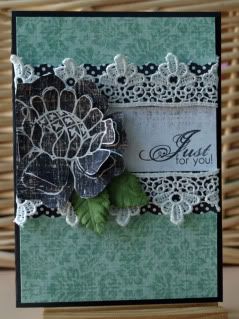 I have used on my card paper from the Bloom and grow range teamed with a die cut from the MeadowLark Dusk accessories sheet and flowers cut from Medowlark Dusk dark floral paper



Card must be newly created solely for the use of this challenge and may not be used in any other challenge until winners are announced. All entries are due by midnight of the last day of the month. The winner will receive a $25 Scraptherapy Voucher, which will be valid for one month from the date of issue. If vouchers are not able to be used within that time for some reason the voucher can be RAK'd to a friend for their use.